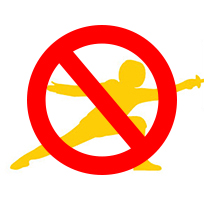 All fencing classes, club practices, and private lessons until further notice due to the coronavirus pandemic beginning, Thursday, March 12.
April 5:
CCFC had 18 people on a Zoom meeting yesterday, Saturday, April 4.  Our guest was former CCFC fencer Olympian Kat Holmes.  Everyone had a chance to ask Kat questions.  A recording of the meeting is available online (57 minutes).
April 2:
Join the USA Women's EpeeTeam tonight, Thursday, April 2, 8:00pm-9:00pm, for tips on how to stay fit at home and ask questions of National Team members. Bonus!  Guest appearances by Team USA's pets as well!
Zoom: https://zoom.us/j/690773011
Meeting ID: 690 773 011
Have any questions you would like a U.S. Team member to answer? Drop them in the Zoom comments.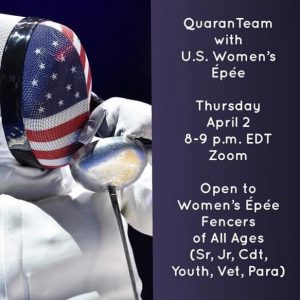 March 30:
CCFC had a Zoom virtual meeting on Saturday, March 28.  We discussed how to diagnose weapon problems on the fencing strip.  A video recording of the meeting is available online (53 minutes long).  Sorry for the poor quality of the recording. We are new to Zoom and this video was recorded on an iPad, not a PC in a room in the house that doesn't have high-speed internet access. The sound and video often don't match. I also had another screen that was used during the demo from an iPhone. That screen unfortunately doesn't show on the recording.  But here are the diagrams of the foil tip and the epee tip that were displayed.
March 27:
US Fencing has issued new guidance.  Fencing classes, club practices and private lessons will not start until at least April 20.  Federal, state and local government and health professionals guidance has priority in determining when practices will resume.  See US Fencing's latest message below: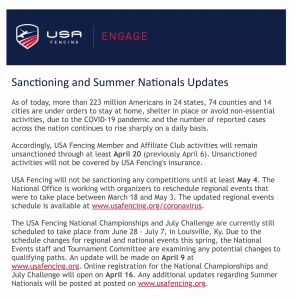 March 26:
From US Fencing's announcement about the postponement of the 2020 Olympics:
"It's a tough time for everyone and I know we are all working to support each other right now. We were so close to the end of qualification and being able to compete at my second Olympic Games this year would have been a dream come true," said Kat Holmes (Washington, D.C.), 2018 Senior World Team Champion and Chair of the USA Fencing Athletes Council. "I know everybody wants to win a medal at the Games, but we want to be able to do it when everybody is able to participate and everybody has had the chance to prepare and will be able to compete at their best."
March 24:
The International Olympic Committee announced today that the 2020 Tokyo Olympics will be postponed to 2021.  Kat Holmes, former CCFC fencer, will be working hard for the another year.  Her post from Facebook: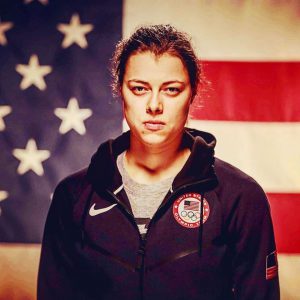 I don't cry because I'm indifferent, I cry because I care.
It's not that I've fallen, but that I will get up.
A year is not now. But in a year I will be stronger, I will be faster, I will be better.
It's not game over. It's game on.
March 23:
The mayor has closed DC schools and recreation centers at least until April 24.  So no fencing at the Chevy Chase Community Center until April 24 at the earliest.
We held our first Chevy Chase Fencing Club virtual meeting today, March 23.  We said hi to each other and I discussed the "Unwillingness to Fight" rule that was discussed in an article in the latest issue of American Fencing Magazine.  I showed a video of the 2001 World Championship team event bout in Nimes, France, that caused the passivity (now called Unwillingness to Fight) rule to be instituted.
You can view a recording of our first Zoom video conference online at: https://vimeo.com/399980039.
We will have CCFC Zoom conferences on Saturdays, 2:00pm, each week.
March 17:
An e-mail from US Fencing informs all fencing clubs that liability insurance will not cover any practices at least until April 6.  When activities resume, group sizes may be limited.
March 12:
E-mail sent to all class participants and club members: 
All fencing classes, club practices, and private lessons until further notice due to the coronavirus pandemic beginning, Thursday, March 12.
This is not a decision of the DC Government or DC Department of Parks and Recreation but is one that I've made as coach of the club.  I don't think I'm overreacting.  I believe the way to keep people as safe as possible is by minimizing contact.  If "social distancing" is done now, rather than after the virus spreads even further, it will be more effective in reducing the outbreak.  With less exposure, hospital facilities and emergency supplies will be more available to those in need.  And, although I love the sport, I realize that fencing is a recreational activity that is not essential (such as school or work).
My decision is also based on the fact that the FIE has canceled or postponed international competitions (including the Junior/Cadet World Championships that were to be hosted in Salt Lake City, UT) and the US Fencing Association has postponed a Super Junior/Cadet Circuit that was to be held March 13-15 in California.  The status of the March (Detroit) and April (St. Louis) national tournaments have been postponed by US Fencing.  The Cherry Blossom Open scheduled for May 2-3 at the University of Maryland College Park will also be canceled.  Everyone should check on AskFRED for the status of any local tournaments.  If you have preregistered on AskFRED for a tournament, then you should receive an e-mail if the tournament is canceled.
March 11:
All club masks, club epee and foil body cords and club's women's chest plates have been swabbed with Lysol wipes.